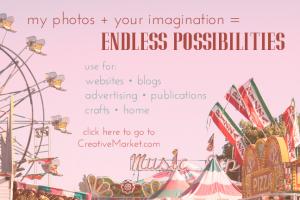 I am SO excited to announce that a collection of my most popular photographs is now available for purchase as digital photo files at Creative Market! That's right… you can buy my photos to use in your own creative ventures! No wonder I'm over the moon (and using way more exclamation points than I should)!

With the launch of their new "Photos" catalog, Creative Market has chosen to be different than typical stock photography sites. I can't say it better than they did in their announcement:

"Photos are such an important part of almost every creative project, yet somehow it's still so difficult to find authentic images among the mass of photos on other stock sites. And with the word 'stock' used to describe the content, it's not surprising most of it looks generic and cookie-cutter, when all you're really after is real photos, of real people, living real lives, taken by real photographers.

"So beginning today, we're setting out on a journey to bring you photos...